Beauty & the Beast
Beauty & The Beast
Howard worked on the 1991 classic film Beauty and the Beast during the final years of his life. Although he died before the film premiered, his hand and his vision are felt in every scene of the film. One of the most beloved films, and songbooks, of all time, it continues to delight audiences in stage and screen adaptations today.
The 1991 classic movie was the first-ever animated film nominated for a Best Picture Academy Award. It won an Oscar, Grammy, and Golden Globe for best song, among countless other awards. The Oscar was presented posthumously to Howard's partner, William Launch, who made history by accepting the award for his life partner.
Three years after the film's release, a hit Broadway production opened at the Palace Theater in New York. It ran for over 13 years, making it one of the longest-running shows in Broadway history. Disney's 2017 live-action film version won applause from critics and audiences.
Belle is a beautiful, independent and headstrong young woman who lives in a small, provincial town in France but dreams of adventure.
She is pursued for marriage by Gaston - a handsome brute and bully.
Belle rebels from the life Gaston and the townspeople have laid out for her. Through a series of misadventures, Belle's foolish father stumbles upon a magic castle, the home of a terrifying beast and usually inanimate objects who are...almost human. In order to save her father's life, Belle takes his place in the dungeon of the castle where, slowly, she learns that beneath the beast's gruff exterior lives the heart of the handsome prince he once was and the good man he has become. Belle and the beast fall in love.
The power of Belle's love transforms the beast and he once again becomes a true prince as his court of inanimate objects become human again.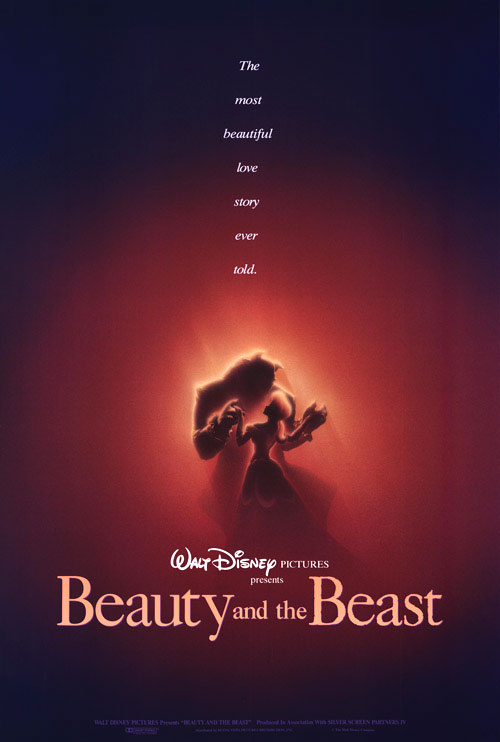 FILMS
Beauty and the Beast (1991) - original animated film
Beauty and the Beast (2017) - live-action film
NOTABLE PRODUCTIONS
April 1994 - Broadway Musical premiere
March 17, 2017 - Live action adaptation of original animated film premiere
NOTABLE RECORDINGS
Beauty and the Beast motion picture soundtrack (1991)
Beauty and the Beast: Original Broadway Cast Recording (2006)
Beauty and the Beast Motion Picture Soundtrack (2017)
 
AWARDS
Academy Award: Best Song ("Beauty And The Beast")
Golden Globe: Best Song ("Beauty And The Beast")
Grammy (Best Song Written for A Motion Picture): "Beauty And The Beast"
Beauty and the Beast was the first animated film in history to be nominated for an Academy Award for best picture.