SMILE
SMILE
The musical Smile is based on the 1975 Michael Richie film (screenplay by Jerry Belson) of the same name. The film had been optioned by Marvin Hamlisch and Howard had originally vied for the job of scriptwriter and lyricist but been turned down. Five years later, he was again given the opportunity to work on the show and quickly agreed.
"'It was the only job I ever wanted that I didn't get," Howard later said. 'When they approached me to fix the show, I said that I wasn't interested in fixing anything. I would only do it if we could start from scratch. To my amazement, Marvin agreed. We threw out all the songs except the melody of the title tune. I called Jerry Belson and got his original screenplay - the one he wished had been filmed - and we started working from that.'''
Howard on the set of Smile with actress Jodi Benson, who would go on to play Ariel in The Little Mermaid.
Mixing idealism with disillusion by casting a jaundiced eye on the world of beauty pageants and a loving eye on the world of young women starting out in life, Smile challenges while it entertains.
The story follows roommates Doria Hudson and Robin Gibson as they vie to be named California's Young American Miss. In addition, we follow pageant director Brenda DiCarlo as she relives her youth and plots her future, oblivious to the price demanded of all those who would have it all.
Pageant roommates and contestants Doria and Robin are polar opposites. Doria is from a broken home and yearns to disappear into the world of pageants. She has been competing for years. She takes Robin, who has never entered a competition before and is unsure why she has done so this time, under her wing. As the girls go through their rehearsals and interviews, we get to know them well. We also get to know Brenda and her family. Brenda needs to make the pageant a success so she can do what she wasn't able to do when a teen - go on to the nationals, this time as pageant director.
By far the best known song from Smile, "Disneyland," was written well before Howard was signed by - or even had considered working for - the Disney Company. It is now a staple among young hopefuls vying for spots in Broadway musicals.
On the day of the pageant, nerves and anxiety abound as, through the course of the evening, the girls conspire against one contestant, and Brenda and her husband discover that their innocent son is not as innocent as they thought. Indeed, by the end of the evening we discover that no one in Smile is innocent or blameless as truths are told and secrets revealed.
Smile examines the inner travails of these quintessentially American characters with a deft combination of humor and empathy.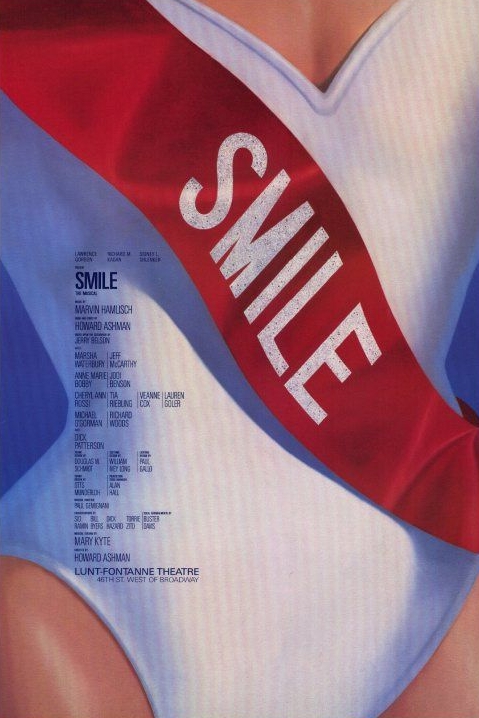 ORIGINAL PRODUCTION
Opened November 24, 1986 at Broadway's Lunt-Fontanne Theatre
Directed by Howard Ashman
Book and Lyrics by Howard Ashman
Music by Marvin Hamlisch
FILM
Based on the 1975 film Smile
(Directed by Michael Richie)
AWARDS & NOMINATIONS
Tony Award
Nomination for Best Book of a Musical
Drama Desk Award
Nominations for Outstanding Featured Actor in a Musical (Michael O'Gorman) and Outstanding Costume Design (William Ivey Long).