Little Shop of Horrors
Little Shop of Horrors
Since it opened at the Orpheum Theater off-Broadway in 1982, Little Shop of Horrors has charmed audiences in theaters and movie houses around the world. Based on Roger Corman's super fast, super creepy, super cult hit film, Little Shop of Horrors is the story of Seymour Krelborn, a lovesick clerk in Mushnik's Skid Row florist who finds finds fame, fortune and a whole lot more when he discovers a strange little plant with some odd eating habits.
Howard Ashman's passion project began as a seed of an idea when he was a Baltimore teen and first saw the cult Roger Corman film, The Little Shop of Horrors. Years later, as the artistic director of the off-off-Broadway WPA Theater, Howard acquired the rights to the movie. Enlisting the aid of composer Alan Menken, who had worked with him on God Bless You, Mr. Rosewater, Ashman began writing the book and lyrics.
The show's action opens on Skid Row as Seymour Krelborn finds that the strange little plant he picked up in the flower district needs a whole lot more than water to make it grow.
Indeed. The plant, Audrey II, named for the woman Seymour secretly loves, begins growing. And its demands grow bigger and bolder, as does the love between Seymour and the actual Audrey.
But true love doesn't conquer all and Seymour resorts to murder, eventually losing everything to the dangerous bargain he made.
Howard Ashman had a clear and very specific vision for how to bring Little Shop to the stage. In the 1985 acting copy of Little Shop of Horrors, he wrote:
"Little Shop of Horrors satirizes many things: science fiction, 'B' movies, musical comedy itself, and the the Faust legend. There will, therefore, be a temptation to play it for camp and low-comedy. This is a great and potentially fatal mistake. The script keeps its tongue firmly in cheek, so the actors should not. Instead, they should play with simplicity, honesty, and sweetness--even when events are at their most outlandish. The show's individual "style" will evolve naturally from the words themselves and an approach to acting and singing them that is almost child-like in its sincerity and intensity. By way of example, Audrey poses like Fay Wray from time to time. But she does this because she's in genuine fear and happens to see the world as her private 'B' movie--not because she's "commenting" to the audience on the the silliness of her situation. Having directed the original New York production of Little Shop myself, and subsequently having seen it in many versions and even many languages, I can vouch for the fact that when Little Shop is at its most honest, it is also at its funniest and most enjoyable."
Little known fact: Martin P. Robinson, the master puppeteer who created the design for Audrey II and was the first puppeteer to perform as Audrey II, is also a Sesame Street puppeteer, known for characters including Mr. Snuffleupagus and Telly Monster.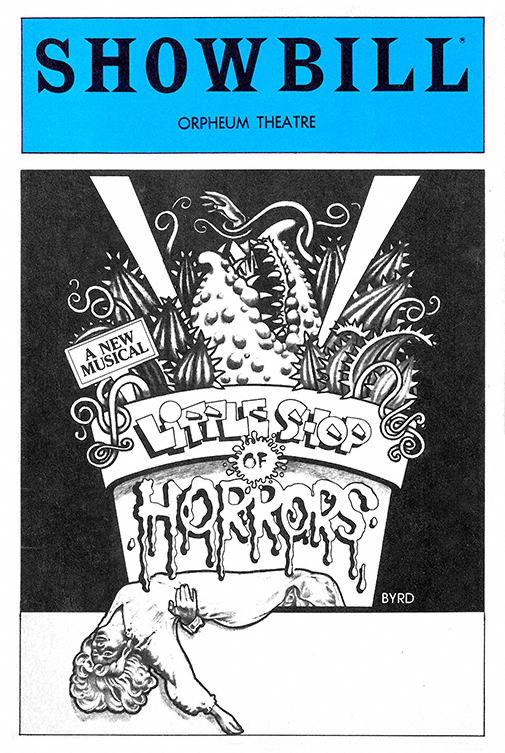 ORIGINAL STAGE PRODUCTION
Book and Lyrics by Howard Ashman
Music by Alan Menken
Original production — WPA Theater: May 6, 1982 - June 6, 1982 (Directed by Howard Ashman)
FILMS
Inspired by the 1960 film The Little Shop of Horrors
Film adaptation of the musical: December 1986
NOTABLE PRODUCTIONS
Orpheum Theater: 1982-1986
Broadway production: 2003
2015 Encores at New York's City Center
Chocolate Factory (2006 - moved to West End)
NOTABLE RECORDINGS
Original production cast recording (1982)
Original Motion picture recording (1986)
2003 Broadway Cast recording
AWARDS
New York Drama Critics Circle (Best Musical of 1982-83)
Drama Desk Awards 1982-83 (Outstanding Musical, Outstanding Lyrics, Outstanding Special Effects)
Outer Critics Circle Awards 1982-83 (Outstanding Off-Broadway Musical, Outstanding Music and Lyrics)
Villager Theatre Awards (Outstanding Production, outstanding Acting, Outstanding Scenery, Outstanding Puppet Design)
Named One of the Ten Best Plays of 1982 by The New York Times, New York Post and New York Daily News, Long Island Newsday, Gannet Newspapers, Other Stages & Cleveland Plain Dealer
London - Evening Standard Award (Best Musical)